Abahna at Elena for Beauty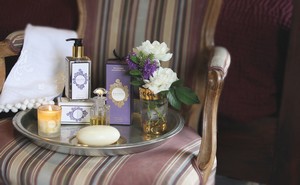 About Abahna

Abahna is a British luxury brand dedicated to making the ritual of our daily bath or shower a special experience. Founded and run by Ed and Claire Croft, Abahna is a family run business and together the couple are passionate about sourcing natural ingredients and creating products that enhance your mood. From nourishing bath oils to subtle home fragrances, with elegant packaging and thoughtful touches, Abahna brings a little much needed, luxurious pampering into our busy lives!
With four Abahna fragrances, we hope you will find one to match your mood. It only takes a minute but re-discovering the benefits of bathing will bring pleasure and relaxation for years to come…Abahna…let the ceremony begin.
MANDARIN & SICILIAN BERGAMOT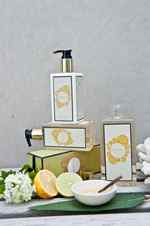 Mandarin oil is clean and zesty and is believed to inspire positive energy as well as improving mood and restoring equilibrium. It is said to help relieve stress and restlessness as well as improving circulation and maintaining water balance in the skin.
Native to China, Mandarins are harvested early in February whilst still yellow and through cold compression the oil is extracted from the fresh peel.
Our bergamot oil sourced from Sicily is extracted from the peel of a small green citrus fruit that is a cross between an orange and a grapefruit. Often known as 'the sunshine oil' it has an uplifting, refreshing scent with balsamic undertones. It is naturally calming, promoting confidence and clarity of thought.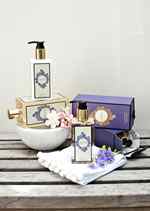 Rose is considered to be 'the queen of essential oils' due to the fact that it takes about thirty roses to make just one drop. The rose symbolises passion, romance and divine love, and is said to open the heart. Rose essence is very well known for its use in skincare as it nurtures dry and sensitive skin. The aroma is powerful and sensual and helps to enliven the body and mind.
Our geranium oil, sourced from Morocco, also has a strong floral aroma but with a hint of mint and slight undertone of apple. This fresh essential oil is one of the most popular used in aromatherapy as it helps to balance the mind and emotions by regulating hormones and soothing the nervous system. Also known for its healing properties geranium oil is excellent for the skin, helping to fade scars, treat imperfections and aid regeneration.
This soothing and comforting blend is balancing on every level; perfect for promoting deep relaxation and restful sleep.
WHITE GRAPEFRUIT & MAY CHANG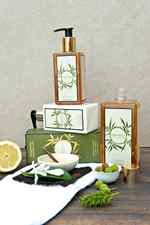 With fresh citrus notes, this is a vivacious, energising blend to lift your spirits and brighten your mood.
White grapefruit oil from the zest of the fruit has an uplifting aroma to encourage happy, positive feelings
It's a perfect complement to may chang, a berry-like fruit native to China with an exotic, piquant perfume and a stimulating influence.
FRANGIPANI ORANGE & BLOSSOM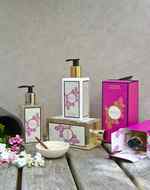 This gentle fragrance, reminiscent of tropical flowers, is delightfully peaceful and calming. From India's green coast to your very own bathing ritual, this is a vibrant aroma brings all the warmth of sunshine to your mind and body.
Frangipani oil is extracted from the flower of the Temple Tree and has a deeply feminine, heady aroma. Used to promote inner peace, its soothing scent embraces the senses first thing in the morning or at the end of a long day.
A favourite of the Moors, orange blossom has been used for centuries for its exquisitely delicate fragrance and soothing, calming effect. It lends a clean and fresh edge to the femanine notes of frangipani.
You want to know more about Abahna products? Call +31 (0)70 – 32 60 371